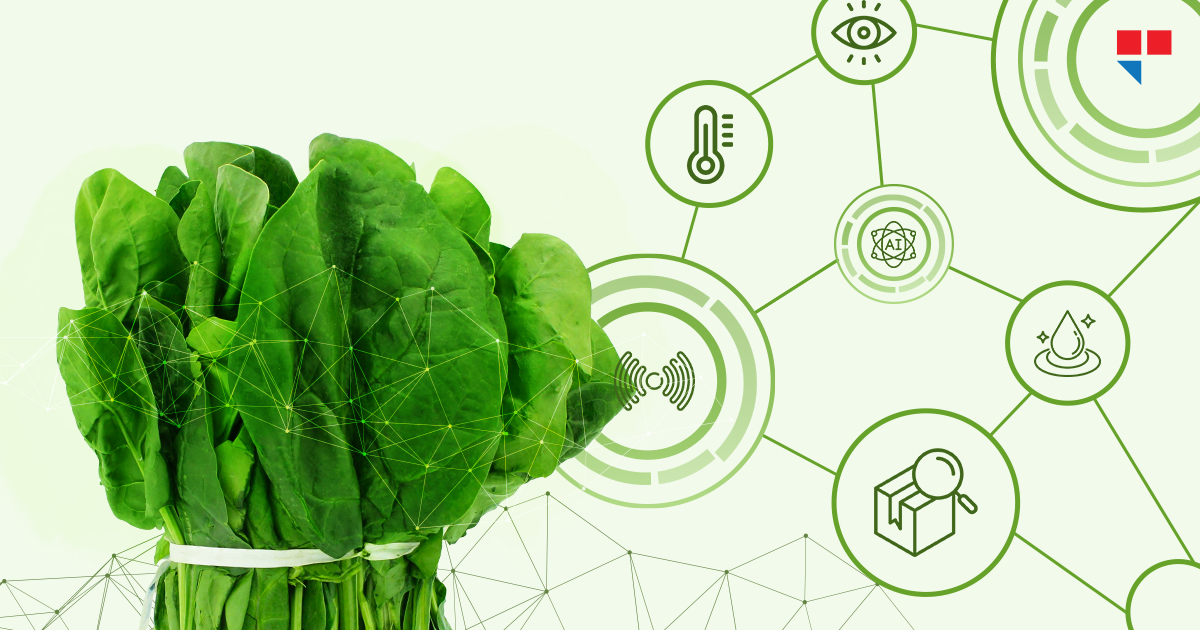 Food safety is a serious public health concern, not just in India, but all over the world. According to WHO, unsafe food causes 600 million cases of foodborne diseases and 420,000 deaths across the globe, every year.
While a foodborne illness outbreak can be threatening to society, it is equally a high-risk situation for businesses to be careless about the safety of their products. Food safety must be at the top of every food-related business's topmost priorities and goals. And to meet this goal, technology can be of immense help. 
In this blog, we will discuss how technology can help businesses ensure that food safety standards are met and maintained from the supply chain's start to end. Keep reading! 
How Technology Ensures Food Standards and Safety
Several cases of foodborne diseases stem from the consumption of unsafe and spoiled food. The key to preventing or overcoming this lies in how food is treated and stored, right from the point of production to delivery and consumption. Earlier, supply chain management was dependent on manual intervention, which led to a lot of errors at different points in the chain. Today, technology has revolutionalised food supply chain management, facilitating enhanced safety at every step of the way.
Food products are perishable goods, and their processing and storage usually need to be high-precision in terms of refrigeration and temperature. Storing food products at specific temperatures helps prevent bacterial growth. Whereas, deviation in this temperature enables bacteria to start growing. This is when food starts getting spoiled, and consuming this leads to several foodborne diseases, which can even be fatal sometimes. 
So, how does technology help overcome this issue?
Sensors and compliance platforms are used throughout the value chain to ensure temperature consistency and safer and more hygienic handling of food. Additionally, food business owners should focus on their supply chain – digitising this will have a positive impact on food safety as well as cut down costs drastically.
Here are some of the most important technologies that are revolutionising the food industry, ensuring food safety and maintenance of good standards.  
IoT & AI
Temperature Monitoring
When done manually, temperature monitoring can result in errors and delays, and before businesses know it, they would have lost batches of produce to spoilage or food loss. In contrast, technology in the supply chain enables smart traceability with technologies like IoT and AI. This ensures better visibility at every stage of the supply chain, right from the production to the consumption point. When it comes to the storage of food, retailers can keep tabs on the temperature in cold storage appliances and track the food's shelf life closely.
Blockchain Technology 
Traceability
Blockchain technology, also widely used in the supply chain, also helps immensely in traceability. It allows us to track the food back to its source, with every detail in place, including its quality. Should there be a case of spoilage in a product, it is now possible to track down the entire batch with the respective retailers/customers being alerted of the same. This will not only ensure the safety of consumers but also increases transparency across the supply chain.
RFID
Visibility & Traceability
Radio Frequency Identification (RFID) technology is widely used in food supply chain management today, simply because it allows the traceability of products at every point in the supply chain. RFID tags help us in identifying products along the value chain. Companies have real-time access to where each product is and also stay updated about their inventory. From batch number to the expiration date, RFID tags offer complete visibility of their products, including the ideal temperature they need.
Blockchain and RFID together can offer ample value to food businesses. While RFID tracks and gathers product-related information, blockchain technology helps keep this data secure.
Good health depends on the health of the supply chain. As food business owners, it is your duty to ensure your supply chain is healthy. Technology adds a layer of traceability and security to the food industry. This helps businesses meet food safety standards while also contributing to the nation's health.
Atsuya Technologies' AOne is an IoT and AI-powered platform that offers refrigeration monitoring and end-to-end traceability solutions for businesses across the food industry. Backed by IoT and AI technologies, AOne is a game changer in the field of traceability and temperature monitoring. 
Are you a retailer or a food entrepreneur looking for smart refrigeration and track-and-trace solutions? Get in touch with us at marcom@atsuyatech.com!