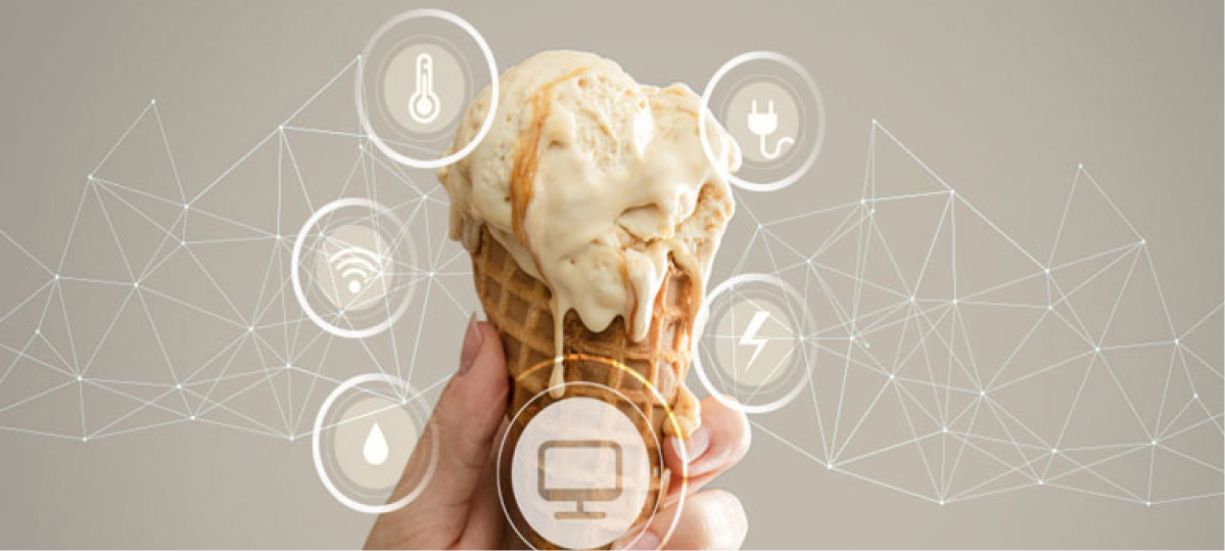 Ice creams are a favorite for all in summer and for many throughout the year. Unsurprisingly, ice cream is one of the most promising industries in the dairy and food processing sector. India produced about 200 million liters of ice cream in the financial year 2020. However, In the post-pandemic times, customers have heightened concerns about food safety and the impact of ice cream on their health.
The principal premise of food safety is to maintain hot things hot and cold things cold. But what really happens when freezers go off for a bit in an ice cream chain or if there are fluctuations in temperature? Frozen items undergo both physical and microbiological changes. Although the processing of ice creams and frozen deserts have a set scheme of heating for pasteurisation/sterilisation and cooling for final processing followed by frozen storage, any setback in the temperature maintenance can cause product instability.
By bringing IoT into the picture, the processing line and storage facilities can be closely monitored to address the issues that can impact consistent quality, look and feel and, in particular, the food safety of the product.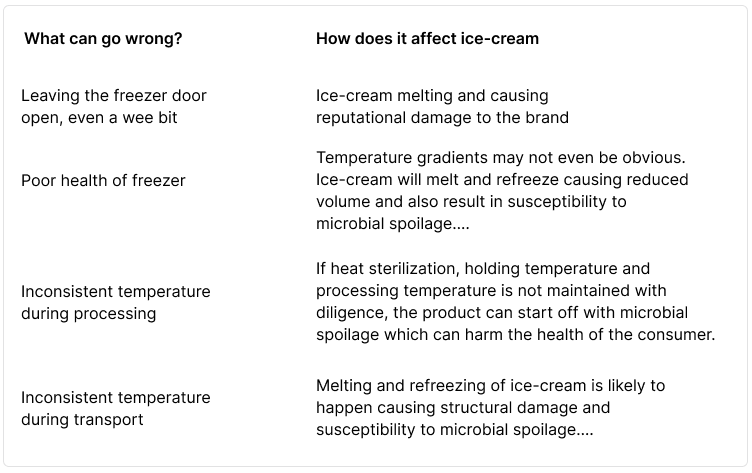 Microbial spoilage can happen due to various organisms viz. coliform, yeast and moulds, and thermoduric microbes. Ice cream is an emulsion of various ingredients, including dairy, sugar, fats, and additives, creating a smooth texture that melts in the mouth. The pleasurable texture of ice cream is an impact of temperature, the small ice crystals, and the small air bubbles distributed across the product flow. Freeze-thaw cycles of ice cream due to improper storage causes the microstructure to implode, making the texture grainy and creating a good ground for bacteria to multiply due to changes in holding temperature.
The role of IoT is to read, record, and maintain temperature giving real-time information to the process control team. It ensures that the processing, holding, transportation, and storage are perfect in terms of temperature maintenance compliance while also alerting the team when there are outages needing their immediate attention.
With the IoT in Atsuya Technologies' solution taking care of the heart of the control process, you, as a business owner, can focus on product development, marketing, and presentation. The things that matter in the back end will be completely under your control with our systems in place.